June 18th, 2012 by Lesa Ricci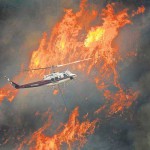 The High Park Fire that is raging in the Rockies near Shambhala Mountain Center has been in the hearts and minds of the leaders and people of Shambhala around the world. Tens of thousands of forest acres have been destroyed, and countless animals and insects have been killed or forced to flee. Jon Barbieri, Director of Shambhala Mountain Center, and his brave staff have been on constant alert as the fire  continues to threatens the land. They have been posting regular detailed reports to the whole community and have been deeply affected by the outpouring of concern, prayers and well wishes from people worldwide. They will continue to provide updates on their facebook page twice daily (please click here).
The Sakyong has been in close and constant touch with the unfolding crisis, working closely with the Kasung Khy Khyap Jesse Grimes. He has asked that we support the entire situation as a community of practitioners by giving particular attention to the Gesar and Magyal Pomra protector chants. We may wish to include all those sentient beings who are suffering, both the dead and the living, in our daily practice.
Although the forest fire near Shambhala Mountain Center still burns, the huge day-and-night firefighting operation has been able to bring an increasing area under control and firefighters expect to  contain a spot fire that is nearest to the center.
The Scorpion Seal Retreats scheduled June 18-29 has been moved to the Naropa University's campus on 63rd and Arapahoe in Boulder, Colorado. The Sakyong made it clear that, "It is important that we continue these teachings and we appreciate that everything we are encountering is part of the path."
Rusung Zane Edwards described the situation yesterday at Shambhala Mountain Center:
"Today we did a lot of manual labor to mitigate any fire spread: tree cutting around the water tank, grass cutting along the downtown perimeter, soaking the Stupa lawn and other things. One of the federal fire safety people checked in with us and spent a considerable portion of the day here. Naturally they were amazed by the stupa and will definitely get us the … equipment/resources to help us out if that time comes… Right now, we are keeping the crew manageable and cheerful, and we appreciate people's cooperation in letting us do our work. Thanks to all, and we'll see what tomorrow brings!"
Today's Denver Post describes the valiant work of the Shambhala Mountain Center staff with Rusung Edwards:http://www.denverpost.com/breakingnews/ci_20869111/ten-from-shambhala-community-dig-protect-stupa-from
Please hear President Reoch's remarks, made at the orientation for the Kurukulla Abhisheka, which have been made into a video on the Shambhala Times:
http://shambhalatimes.org/2012/06/16/tender-and-valiant-shambhala-mountain-center /#more-32050
For updated information concerning the fire, visit:http://inciweb.org/incident/2904 /